The expression 'big in Japan' was once something of a cultural joke. Essentially it was a back-handed compliment paid to foreigners (usually Westerners) who, simply by virtue of being exotic in Japan, could achieve some degree of fame regardless of talent, experience or ability.
It's also the title of an eighties pop song, as well as a 2018 documentary in which an Australian film-maker attempts to become famous – or at least infamous – in the Land of the Rising Sun.
Yet the British fashion retailer Paul Smith's remarkable success in the country has little to do with him being a novelty and everything to do with the respect shown by the man himself to the country which, with open arms, has embraced him.
Paul Smith is a global brand that has stores from Moscow to Manila – 73 countries and growing. Yet no country has anywhere near such large a concentration of Paul Smith outlets as Japan.
There are currently around 200 stores there compared to just 18 in Smith's home country, most of which are in London, and the Japanese market represents an astonishing 40% of the retailer's total sales.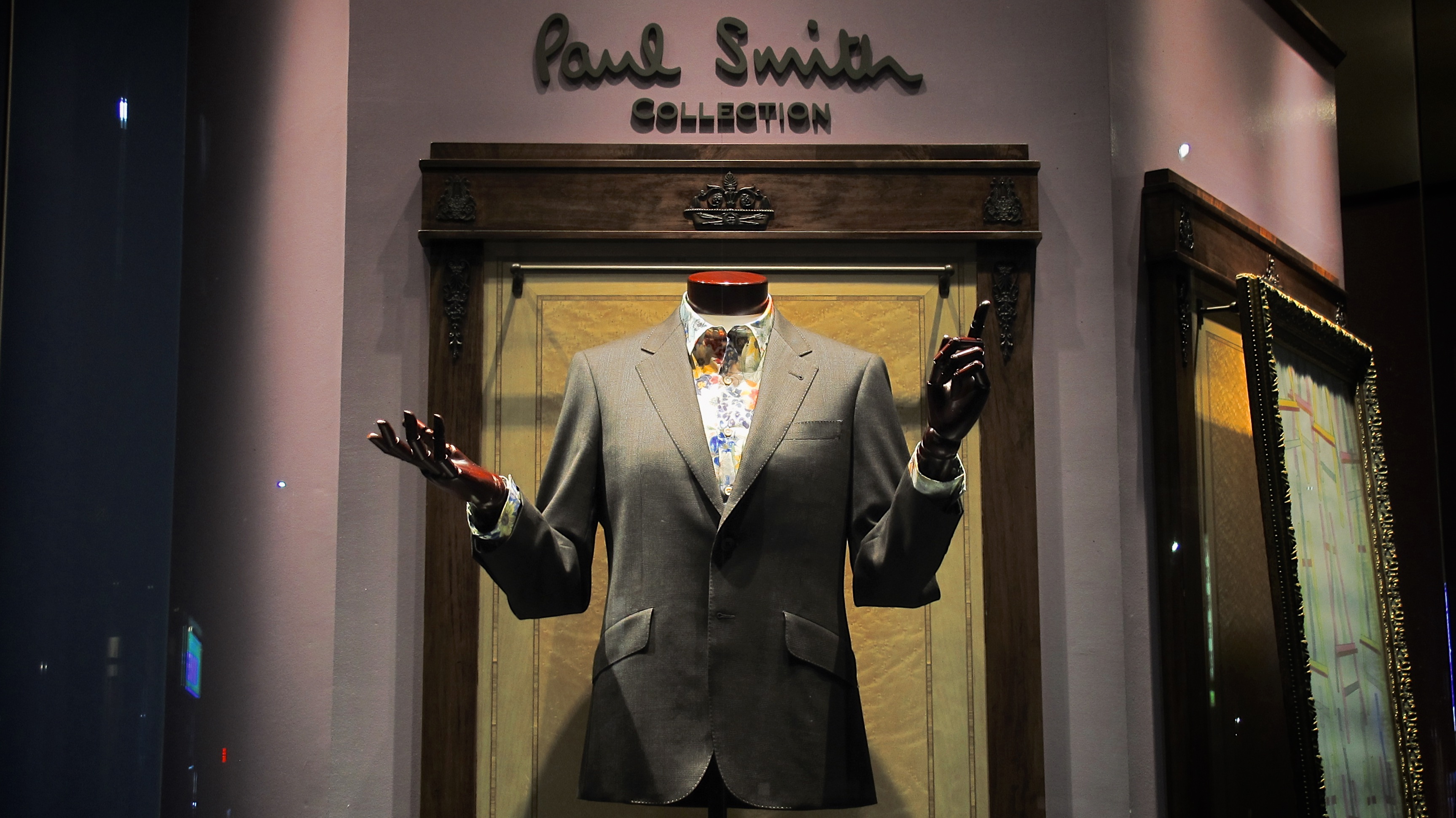 A cutting-edge country
In terms of fashion, Japan has been a global trend-setter for decades and has a reputation for being at the cutting edge of the industry. Whether or not Japanese youth are very discerning when it comes to western pop music is debatable. But when it comes to clothes the Japanese adult consumer is a notoriously tough nut to crack.
And then there's the etiquette obstacle course that is Japanese society. It can be a disorientating amalgam of the excessively polite (all that bowing!) and the exhibitionist (it is, after all, the country that invented karaoke), together with lots of conversational subtext and more opportunities for accidental insults than you can shake a chopstick at.
So how did Smith, a man of humble origin who left school at 15, achieve such spectacular success in a country where so many other major clothing brands have failed?
Smith first visited Japan in 1982 after he was invited there by a clothing scout from a large Japanese business that wanted to bring over European fashion designers. By this time Smith had gone from doing a menial job at a fashion warehouse in his native Nottingham to owning a small clothes shop in London.
In the 1980s Japan attracted precious few Western tourists and Smith, measuring six feet four inches, stood out wherever he went. Constantly pointed at and asked by locals to have his photo taken, Smith was always happy to oblige. He told Business Traveller in 2015 of his gratitude just to be able to travel to Japan with his hosts footing the bill.
Flippancy gets you nowhere
In the eighties the Japanese economy was buoyant and there was a hunger for European exports. Representatives of other fashion brands would also visit Japan at that time and display what Smith thought was a "disrespectful" and "flippant" attitude.
Speaking to the Guardian in 1992, he said: "When I give any kind of talk, the first thing businessmen want to know is: how do you get into Japan? And the answer is, you go there to learn, to enjoy it, to get a feel of the place.
"The attitude of a lot of the foreigners in Japan is absolutely disgusting. You don't go there with contempt for the people and the culture. You don't go there just to make money.
"I have been to Japan 31 times. I am a success in Japan because I go there with love in my heart. I respect the people. I have tried to learn their ways. I love the place. A lot of designers are not successful in Japan and don't deserve to be."
Smith, it was reported in the same article, tells his staff to "think global, act local." To learn about the local culture but never make assumptions. It is an attitude that has served him well over the years.
Paul Smith, body shapes and business meetings
10月16日(日)に開催されたポール・スミスの"I LOVE JAPAN" ファッション・ショー、Paul Smith JAPAN 公式Facebookページでランウェイの写真を公開しました

— Paul Smith JAPAN (@PaulSmithJAPAN) October 19, 2011
One early hurdle Smith had to overcome in establishing the company in Japan was getting the size of the clothes right for the Japanese consumer. "I hadn't really realised that Japanese people are a very different shape," he said. "We made clothes in Britain and shipped them out for about two years but we soon realised the sizing was wrong."
Another problem he encountered during his first few visits to the country was communication. He didn't speak the language and he didn't have a professional interpreter.
"I was on my own and had three people who worked for me out there, one of whom only spoke schoolboy English," he said. "So it was really challenging".
"I found it quite stressful… I was there for ten days, I was out late at night socialising to get to know the press, and didn't get much sleep.
"I have always had quite a strong sense of humour and when I felt I needed to relax things a bit in these meetings, I would pull out a rubber chicken from my briefcase and wave it around. They would all gasp and the mood would lighten… But I do put my success in Japan partly down to my rubber chicken."
A century of sayonaras
By 2015 Smith had visited Japan more than a hundred times, spending up to ten days at a time there. He had even begun producing collections unique to the Japanese market and began to show at Tokyo Fashion Week – an event that normally leans more towards showcasing home-grown designers. The first collection he ever showed there in 2011 was entitled 'I Love Japan'.
Smith's affection and respect for the Japanese is clearly genuine. He has spoken about being the sole foreigner on one of the first Tokyo-bound flights out of Heathrow after Japan's devastating 2011 earthquake and tsunami.
"I [visited] as soon as I could after 11 March because I wanted to offer our lovely staff and loyal customers some support," he told the Telegraph in November 2011.
Paul Smith's success in Japan has undoubtedly paved the way for its expansion into other Far Eastern countries. It now also has stores in China, South Korea, Hong Kong, Singapore, Taiwan, Thailand and the Philippines.
In 2017, a touring exhibition about Smith's life entitled 'My Name Is Paul Smith', included two stops in Japan, plus one each in China and Taiwan. It's a testament to the high esteem in which Smith is held in the Far East.
With growing economic uncertainty in the UK due to on-going Brexit negotiations, having the majority of its stores located in the Far East bodes extremely well for the company.
Carrying that rubber chicken in his bag may be one of the smartest moves its owner ever made.
Do you regularly travel abroad for business? Do you work as part of an international team? If you need to brush up on your cross-cultural skills, RLI offers bespoke cultural briefing.