"I wasn't sure what to expect when I first started working remotely," admits Alex Cristea-Nechita. "However, after a while, I quickly discovered that working from home wasn't only interesting, but it was also a great way of learning new things about myself."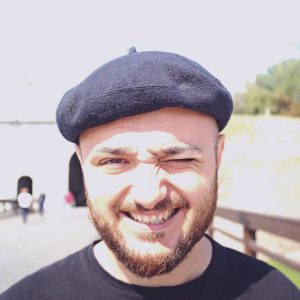 Alex is a translation project manager with Robertson Languages. Having worked in a similar role in the past, he instinctively knew that he'd enjoy it – but had no idea how much he'd fall for his new yet oh-so-familiar work surroundings.
"I work from the office I have set up in my living room," he says. "It's spacious, with the computer near the window so I get as much sun as possible during the day."
Like most of his colleagues, and millions of others around the world, Alex works a traditional nine-to-five (what a way to make a living, eh?), with one break sandwiched between morning and afternoon.
"Working from home gives me a beautiful sense of freedom"
Away from the keyboard, Alex loves to play his guitar – and cooks something simple if he has the time. But that isn't all he does to relax.
"Take a 15-minute nap during your break," he advises fellow remote workers. "It's really invigorating."
Through doing these little things, he gifts himself the necessary space to breathe which is so pivotal to maintaining a high level of motivation.
One of the many reasons Alex likes working from home is the fact that he can access a culturally diverse environment from the comfort of his living room.
"It gives me a beautiful sense of freedom," he explains, "without having to lose the constant contact with my team of expert translators and reviewers."
"We have video calls almost every day and chat via emails and messages," he says.
Working global, staying local
His team work interdependently and are always in touch with one another; helping each other with their respective projects.
But, as with most things, working remotely does have its downsides.
"I don't get to see people face-to-face much", Alex says. "But I try to meet up with friends in the evening and at the weekend."
If you're a people person or a social animal, remote working perhaps isn't the ideal gig for you. That's not to say, however, it isn't a valuable experience to learn from.
Not being surrounded by his colleagues, Alex has to maintain discipline and remain focused at all times.
Mastering the art of self-motivation
"It's a great opportunity to manage yourself as well as translation projects," he smiles, "especially if you have a love for languages."
With the help of a few breaks here and there, he's able to maintain a level of focus which you'd seldom see in an office environment – ambushed by the sound of machine gun typing and the cacophony of phones ringing off the hook.
The power of technology has developed a climate in which almost anything is possible. Complex digital projects can be tackled from underneath the duvet, and intercontinental discussions can be held from the comfort of your settee.
Alex is loving life working remotely. Since coming to terms with the concept, he's been able to transform his home into a workspace in which he feels the dream sensations for professionals: comfort and security.