On 8th December, Robertson Languages joined Wolfestone, a multi-award-winning translation company from Swansea. Since its inception in 2006 as the provider of small certificate translations, Wolfestone has grown exponentially to become the largest language service provider in Wales.
In acquiring Robertson Languages International, the Wolfestone Group of Companies has now expanded its portfolio to include three companies: Wolfestone Translation, VoiceBox and Robertson Languages International. The acquisition also sees the Wolfestone Group expand its services, encompassing translation and interpreting services, multilingual voice overs and subtitling, and now, global language training.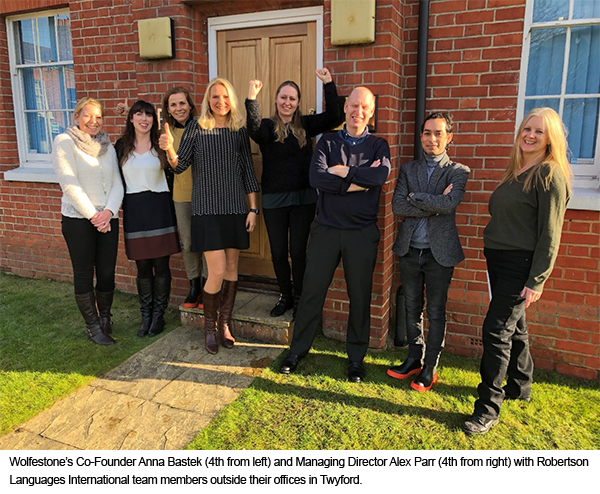 Wolfestone and Robertson's ATC Bond
Wolfestone and Robertson Languages International are no strangers to one another. In 2010, Roy Allkin, Co-Founder of Wolfestone, replaced Liz Robertson to become the Chair of the Association of Translation Companies (ATC), and in doing so, making Wolfestone the youngest company to chair its trade body.
Mr. Allkin commented: "When I became Chair of the ATC eight years ago, I learned a great deal about the translation industry from Liz Robertson. Together with her husband, Bob, they have been very active in the industry and influential in helping to shape and professionalise it. So, it's an honour for Wolfestone to be entrusted with continuing and building upon the great work they have put into their company over 28 years."
The merger of Robertson Languages International with the Wolfestone Group presents many exciting opportunities for all three brands. Clients of Robertson Languages can expect to see their translations benefit from Wolfestone's innovative technology and ability to handle both rare language and urgent translation requests as well as multimedia services through Wolfestone's sister company VoiceBox. While for Wolfestone, having a presence in the language learning market will be a huge boost to the wide range of services already on offer.
To read more about this acquisition and the women who led it, click here.